Lee Jung-ah was well-known as a prolific novelist before she adapted her frothy book The 1st Shop of Coffee Prince into a TV series (MBC 2007) with screenwriter Jang Hyun-Jo and director Lee Yoon-jung (The Lies Within). The languid place, stilted comedy and superficial drama of Coffee Prince—the show's English title—may deter many international viewers now, especially those who find the tired conceit of girl-poses-as-boy strains credulity over so many episodes.
But Coffee Prince was groundbreaking in its day—the era of the first Korean Wave—and a hit with Korean audiences. It was the first mainstream Korean TV drama to engage with gay sexuality and gender fluidity, even if both elements are just deceptions, and all romantic relationships in the show turn out to be heterosexual.
It also offers a chance to see actor Gong Yoo in his breakout role as coffee scion Choi Han-kyul, before he starred in Guardian: The Lonely and Great God (AKA Goblin, tvN 2016) and the movie Train to Busan (2016), as well as appearing as the salesman in Squid Game (2021). Lee Sun-kyun, now famous for My Mister (tvN 2018) and Parasite (2019), plays Han-kyul's cousin, a music producer for various dreary acts, all teeth and torment. In smaller roles are the coffee shop's bestlooking staff member, Kim Jae-wook, who played a Japanese nobleman in The Last Princess (2016), and the coffee shop's oldest staff member Kim Chang-wan (of TV shows like Something in the Rain, It's OK to Not Be Okay and Awaken).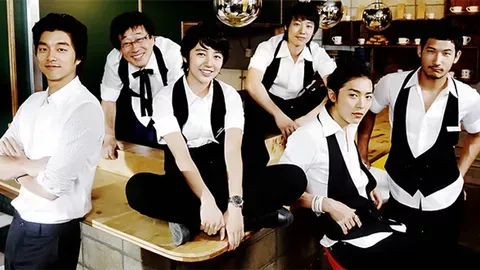 The female protagonist of Coffee Prince is Go Eun-chan (Yoon Eun-hye), a tomboyish, boisterous twenty-something whose father has died: she's assumed the breadwinning role for her pretty, idle mother (played by Park Won-sook) and pretty, idle sister Eun-sae (Han Ye-in). This means food and milk delivery, and home-based piece work. Eun-chan is hardworking, gauche, greedy, and careless about her appearance: her hair is a short mop, and she stomps around bow-legged in long shorts. Most people who don't know her think she's a boy, like the female customers at a bathhouse in the first episode.
This confusion is central to the story, because it allows Eun-chan to get two (relatively) lucrative assignments from Han-kyul. He is a dilettante who has been designing toys in New York, but has been told by his grandmother, matriarch of Dongin Foods (Kim Young-ok of Squid Game and Hometown Cha-cha-cha), to buckle down and learn the family business. She wants him to co-manage a failing coffee shop and prove he's more than a lazy, selfish child. She also wants him to start going on blind dates to find a suitable wife. Han-kyul still carries a flame for first love Han Yoo-joo, the on/off girlfriend of his cousin Han-sung, although he knows it's a hopeless cause.
Han-kyul thinks Eun-chan is a boy, and hires her to disrupt these blind dates by playing his gay lover. Then he hires her as a waiter at the coffee shop—called Coffee Prince because it features an all-male staff intended to attract female customers. Eun-chan falls for Han-kyul and eventually he falls for her, questioning his own sexuality and fearing the implications of a romantic relationship with another man. Eun-chan, desperate to keep her job and fearing rejection, sees no alternative but maintaining the ruse.
An urban romantic comedy in the style of the Japanese "trendy drama" (idol dorama), Coffee Prince shares one key characteristic with the influential 1991 series Tokyo Love Story. Rika, the heroine of the Japanese series, pursues what scholar Wan-shuan Lin calls "pure love (or chun ai, a sincere love that is its own reward and seeks no return)." Eun-chan has her own version of this "pure" love, devoting herself to Choi Han-kyul though she believes he can never love her. After the truth is revealed (by co-worker Ha-rim in Episode 11), Eun-chan defends her deception by saying she didn't think she was rich or pretty enough for him as a female partner: the only way she could stay by his side was as a "blood brother." This class difference, or difference in social/material status, is another characteristic of "trendy drama," where the female lead is at a significant disadvantage.
At first Han-kyul is furious about being duped, and exerts his privilege as boss by sacking Eun-chan. "When I admitted that I liked you even as a man," he fumes, "I didn't care what the world would think of me, disregarding my family and friends, to the point where I decided those things didn't matter. I agonised so much." In fact, he doesn't have the chance to admit anything to his family and friends, so experiences only inner turmoil. (His cousin Han-sung knows all along that Eun-chan is female, and fancies her himself.) After he's finished sulking about nobody trusting him, Han-kyul is jubilant that Eun-chan is female. "She's a girl!" he announces to random people in the street, to make sure nobody thinks they're two guys holding hands in public. The social context for the series, after all, is a conservative mainstream Korea in 2007. (For example, the hoju system of men as legal heads of the family was only abolished by law in 2008, and same-sex marriage is still not possible.)
Eun-chan isn't wrong to worry that she's not rich or pretty enough for Han-kyul's family. How can he "settle for a girl like her?" his grandmother demands, accusing her of setting out to seduce the rich boss. ("Get that thing out of my sight," she says, as though Eun-chan is neither male nor female, or indeed a person at all.)
This is a romantic comedy, so all will be resolved. The stories of four other couples swirl around the main story, with varying degrees of comedy. Local butcher Mr Ku (Lee Han-wi of The Tower) obsesses over Eun-chan's mother. Lunky waiter Min-yeop (Lee Eon, who sadly died in a motorcycle accident a year after the series was made) obsesses over Eun-chan's sister. Aloof, handsome wafflemaker Sun-ki obsesses over an ex. The other main couple, Han-sung and Yoo-joo, reconcile after she leaves him to go to New York—shorthand in Coffee Prince for the glamorous West—with charisma-free art dealer DK (Kim Jung-min), but she threatens to leave again, and is jealous of his crush on Eun-chan. They are the angsty professionals of the story, with elite creative occupations and no money worries (or differences in social status), though their work is portrayed in the most superficial way. Yoo-joo, beautiful but insipid, drinks red wine while she paints and decorates the cafe with garish flowers. Han-sung lolls around in the twilight of a studio listening to emo-droning.
That Eun-chan is the object of desire—albeit temporary— for Han-sung suggests that what he really desires is someone who'll make him laugh with childish antics rather then match him intellectually. This seems to be her main attraction for Han-kyul as well, though at least he is immature as well. Some critics argue a feminist reading of Coffee Prince, in which Eun-chan has integrity and self-determination while Han-kyul has to mature, and question his own masculinity, in order to deserve her. But the narrative, and its two leads, lack the depth to deliver complex emotions. The most that can be said of the leads are that Eun-chan is cheerful and Han-kyul—even with his big hair, earring, and terrible clothes— is handsome.
One subversion of the "trendy drama" genre, at least, is that not all roads here lead to marriage. Han-sung, one of the most reflective characters, admits to wishing Yoo-joo wouldn't paint all night. "Maybe that's why women don't want to marry," he says. "The moment that woman becomes yours, you want that woman to live by your guidelines."
Eun-chan, in no rush to marry, wants to study to become a top barista in Italy, maintaining a long-distance relationship with Han-kyul. Again, this has been cited as evidence of her independent spirit. My feeling is that she's as mature as a spunky fourteen-year-old, and exhibits little sexual desire or romantic ambition. She and Han-kyul both need to grow up—a lot—in order to inherit the kingdom of coffee princes.