Fear of invasion is embedded in the South Korean psyche. Pre-medieval Goryeo had its own Great Wall to keep the Jurchen out, and eventually fell to the Mongols. Its successor, Joseon, began battling Japanese invaders in 1592 (see The Admiral: Roaring Currents) and was annexed to Imperial Japan in 1910 (see Mr Sunshine). After Japan's defeat in World War II, Korea was divided between the US and the Soviets. In 1950 North Korea invaded, later supported by Chinese troops, in "the first proxy war of the Cold War era," as foreign affairs expert Kwak Chul-woo notes in Steel Rain. The stalemate stand-off continues almost seventy years after the end of the Korean war, with mandatory military service for young South Korean men.
The first Japanese invasion began in Busan. And in 1951, when General MacArthur, commander of the UN forces, began his Korean campaign, the government had been forced to retreat to the southeast and the "Busan perimeter." In Train To Busan—a tense, gripping thriller that was a record-breaking domestic hit on release—the perimeter is back, held by a jittery military. The invaders this time are the most dangerous of all: the people of South Korea itself.
Train to Busan (2016) is director Yeon Sang-ho's first live-action film, though not his first film featuring zombies (see 2015's Seoul Station, an animated prequel to Train to Busan) and not his first film to explore the consequences—and shadows—of contemporary South Korea's economic boom. From his early short films to his first full-length animated feature The King of Pigs (2011)—and on through The Fake (2013) and Seoul Station—Yeon Sang-ho has interrogated abuses of power and violence (in schools, the military and organised religion) and increasing disparities of wealth and opportunity.
As in Kingdom, the "plague" infesting the nation is created at home, through misuse of knowledge or technology, and has a political context: the powerless rise up to destroy the oppressive social order in which they have no voice. A leak from a biotech company begins by despoiling nature and then infects the populace. (In another visual and thematic link, both Train to Busan and Kingdom: Ashin of the North begin with the zombified resurrection of a deer).
Protagonist Seok-woo (Gong Yoo of Coffee Prince and Squid Game) is handsome and successful, but he's work-obsessed, too busy for anything but eating fast-food at his desk, buying his daughter Su-an a Wii for her birthday without remembering he's already given her one. His daughter (played by the soulful Kim Su-an) wants to visit her mother—his estranged wife—in Busan, and a guilty Seok-woo gives in. It's a three-hour trip on a KTX high-speed train, so they leave first thing in the morning: Seok-woo plans to drop her off and be back in the office by that afternoon.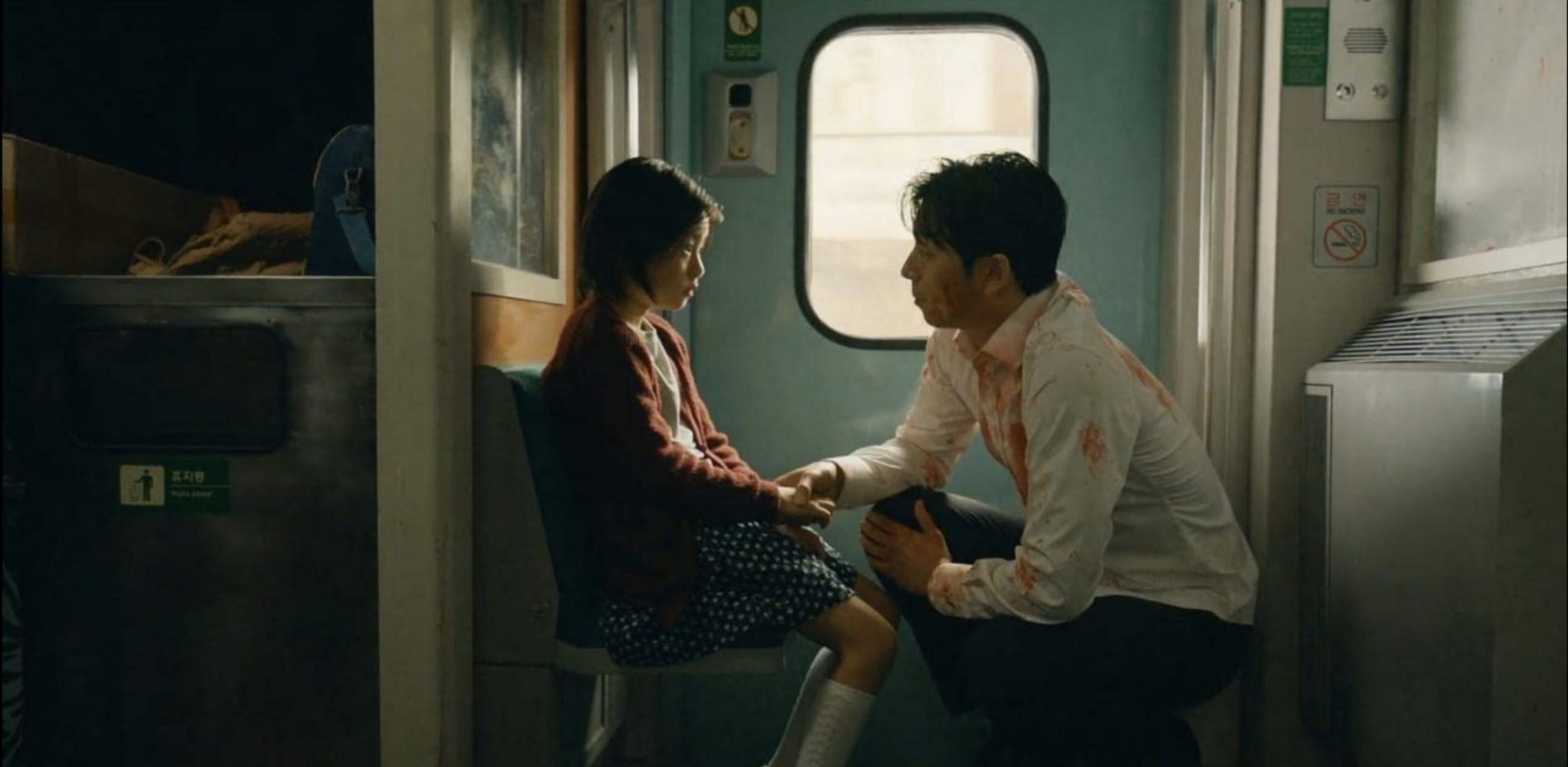 At this point the infection spreading in Korea still seems to be a disturbing news item, something happening elsewhere to other people. The lack of panic among passengers in their comfortable seats suggests the selfishness of societies where individual gain has replaced community responsibility. Yeon Sang-ho may have had the 1980 Gwangju uprising in mind, during which the then-government tried to suppress all information about the thousands of protestors who were killed (see A Taxi Driver).
A possible film influence is Lee Chang-dong's classic film Peppermint Candy (1999), in which trains are emblems of industrialised South Korea, with its relentless high-speed momentum. In Train to Busan, the sealed seclusion of a high-tech, high-cost train can't protect its passengers from the anarchic force of the infection. The last person to leap onto the train is soon writhing on the floor and, carriage by carriage, the carnage spreads. The train speeds along with everyone trapped together, the living and the un-dead, the elite and the everyman.
The terrified non-infected split into two factions, ones trying to rescue other people and ones only concerned with themselves. Seok-woo's ad-hoc gang of the good includes Sang-hwa (Ma Dong-seok of The Royal Tailor and the Along with the Gods blockbusters), a working-class strongman who fears no one but his pregnant wife Seong-kyeong (Jung Yu-mi of In Another Country, Reply 1994). He despises Seok-woo and his executive ilk. "Fund manager?" he asks. "You mean 'bloodsucker'." Choi Woo-shik of Parasite plays a high-school baseball player who's the sole survivor of his team, and Choi Gwi-hwa (A Taxi Driver, Misaeng) is a homeless man who proves that deeds count more than words.
Park Su-jeok, the screenwriter, also wrote the gangster revenge film Hwayi: A Monster Boy (2013): here, he and Yeon Sang-ho concoct one intense, high-stakes sequence after another, mostly avoiding sentimentality and for-its-own sake gore. (Yeon Sang-ho says he conceived the film as a "psychological thriller" and didn't want the visual effects of the Western zombie genre to deter Korean audiences.) The train management decides to offload survivors at Daejeon—another important location in the Korean war, where the government retreated from Seoul before North Korean attackers drove them further south. Our passengers fare little better here: the South Korean army supposedly guarding the station are already infected. The scramble to get back on the train is one of the film's most thrilling sequences, and leads to even more danger on board, when Seok-woo's group are split up and surrounded.
The first-class cabal, using ropes made from business ties to secure doors, close ranks and shun Seok-woo's hardy little gang. As in Squid Game, survival is won at the expense of others, and it's often not the survival of the fittest—just the most powerful group, often with insider knowledge and a sense of innate superiority. In Train to Busan, it's telling that the most villainous of all, ready to push others to their death to save himself, is business executive Yon-suk (played by Kim Eui-song of Inside Men, Steel Rain, 1987: When the Day Comes, Extreme Job and Mr Sunshine: he's particularly good at smooth villains).
Fatherhood, Sang-hwa says, is "all about sacrifice." One day, he promises, Su-an will understand why Seok woo needed to work so hard. Sacrifices on the train take a more brutal form, and it's the sacrifices—made for love, or for the greater good—that enable some passengers to escape. In the end, the train can't even reach Busan. Like refugees over the centuries, the last survivors have to make their way on foot, singing a song of lost love.