A 2019 tvN adaptation of the US series of the same name, this high-concept drama has a particularly Korean political resonance. Unlike the US, Korea has an all-too-recent history of military coups and political assassinations. Park Jung-hee's military dictatorship ended with his assassination—by one of his ministers—in 1979, the subject of the tense thriller The Man Standing Next (2020). Park's successor, General Chun Doo-hwun, oversaw the continued violent suppression of pro-democracy protestors. (The films A Taxi Driver and 1987: When the Day Comes, both released in 2017, re-visit the brutal treatment of students and other demonstrators in Gwangju and Seoul.)
Two trademarks of K-drama are apparent early on in the series. Firstly, the lead actor of the Korean version, Ji Jin-hee, is much, much more handsome than his North American counterpart, Kiefer Sutherland. (Viewers who watched Ji Jin-hee play the seething trophy husband in the 2018 drama Misty may suspect him of hand-chiseling his jaw between scenes.) Here he plays Park Mu-jin, a Chemistry professor who was appointed, six months before the story begins, as minister of the environment. He's the youngest minister in Korean history, and possibly the only one ever with old-fashioned movie-star good looks. (With his glasses on, he looks like Gregory Peck in To Kill a Mockingbird.)
Mu-jin is brainy, awkward and more comfortable with calculations than negotiations. He scrambles around under tables to retrieve plastic bottles, to make sure they get recycled before someone resuses and 'contaminates' them, and manages to outrage the US FTA delegation in Seoul. The English-speaking actors who make up the delegation are the second K drama trademark: their dialogue and its delivery are not good. Too often an excellent TV series like Misaeng or Squid Game is marred by wooden performances from the English speakers: see a further discussion of this, and of erratic subtitling, here.
Park Mu-jin thinks the environment—diesel, fine dust, emissions—is more important than the special relationship with the US, and this lack of political savvy seems to be his undoing. The President —played by Kim Kap-soo, K drama stalwart and a more cut-throat, unprincipled politician in Chief of Staff—decides that Mu-jin has to resign. But before that can happen, the National Assembly Building is blown to pieces, killing the President, Prime Minister, cabinet and hundreds of other people.
Mu-jin witnesses the spectacular explosion while driving his wife and son across a bridge. As avid viewers of K-drama know, nothing good happens on bridges in Korea (see Stranger, Two Cops, The Good Detective, Start-Up, Squid Game, etc). He races to the building to look for his daughter, visiting on a school trip. There he's bundled into safety by men in suits who have bad news for him: he's the most senior member of government left, and is Acting President for sixty days, whether he likes it or not. Mu-jin is someone who thinks before speaking, sometimes for so long that the impatient political operatives around him think he has nothing to say. There are numerous close-ups of his fidgeting feet and at first he's more comfortable in his KAIST university hoodie rather than a suit. Even his suits, too short in the leg, look unpresidential.
He tries to avert war by making scientific rather than political calculations. The aides who stalk the corridors of the Cheong Wa Dae—Blue House—complex aren't impressed, particularly wily old Han Ju-seung, the Chief Presidential Secretary, and the hawkish Generals at the National Security Council, itching to take charge. "We're at war now," one shouts, insisting the bomb must be an attack from North Korea that demands immediate retaliation. They're not unhappy about the late President's demise, no fans of his "Sunshine policy" of warmth towards the communist neighbours.
If North Korea is to blame, then the military, rather than the police, will take over the investigation—and implicitly the country. Japan takes the opportunity to send a ship into Korean waters, reviving the territorial dispute over the islands of Dokdo (Takeshima to the Japanese), and a US commander arrives to boss everyone around.
The two main National Intelligence Service agents investigating the blast are chief Jung Han-mo (Kim Joo-hun) and analyst Han Na-kyung (Kang Han-na): the same actors played father and daughter in Start-up. In Start-up Kang Han-na gets little to do except be surly: Designated Survivor offers her a much more nuanced, active role. The explosion has personal as well as professional ramifications for her character, and in one of the series' most tense action sequences Han Na-kyung gets to demonstrate both bravery and brains. Kim Joo-hun, who plays the comedically conniving publisher in It's Okay Not to be Okay, also has a meatier role here, an example of the impressive versatility of many Korean TV actors.
Rising from the rubble of the destroyed Assembly Building is the real designated survivor: Oh Yeong-seok (played by Lee Joon-hyuk, a sly and ambitious prosecutor in Stranger). Yeong-seok is a first-term member of the Assembly, a political independent and a former naval Lieutenant Commander with big popular appeal and model-like looks. His survival seems like a miracle—glorious to some and deeply suspicious to others. On the surface Yeong-seok is serene, a photogenic blank onto which scared voters and nervous generals can project a political saviour. But he's a zealot with a mission, and the mystery of who is behind his survival and ascent forms the spine of the story.
President Park Mu-jin is a blank in a different way, a political naif who others want to manipulate or sideline. Numerous shots position him reflected in shiny surfaces; in some scenes we see him from the back, staring out a window or onto a lake, suggesting the burden he shoulders. Like so many K dramas, whatever their setting—law firm, police station, hospital, business—the series interrogates power and hierarchy, and the limits they impose on the talented but unconnected. Still, Mu-jin is part of an academic elite if not a political or military one.
His political antagonists and reluctant allies include wary opposition leader Yoon Chan-kyung (played by Bae Yong-ok). Ahn Nae-sang— a dogged, suspicious detective in Two Cops—plays power-hungry Mayor Kang, his desk surrounded by cartoons of himself, and so desperate for the youth vote that he dyes his hair.
At the Blue House, the take-no-prisoners Cha Young-jin (Son Seok-koo, seen more recently in D.P.) becomes Mu-jin's right-hand man and strategist-in-chief. The promotion happens after Young-jin gives an angry speech about fists and swords, and implies that Mu-jin is hopeless. "I need him," Mu-jin admits to his prim, doggedly loyal aide Jung Soo-jung (Choi Yoon-young), who feels overlooked.
Young-jin is one of a new generation of young-ish aides stepping into the power vacuum, along with North Korean defector—and amiably vain—Press Secretary Kim Nam-wook (played by Lee Moo-seang, good at basketball), and Park Soo-kyo (Park Keun-rok of Misaeng and Parasite), who assumes the administrative protocol role in the presidential office when his own boss dies in the blast.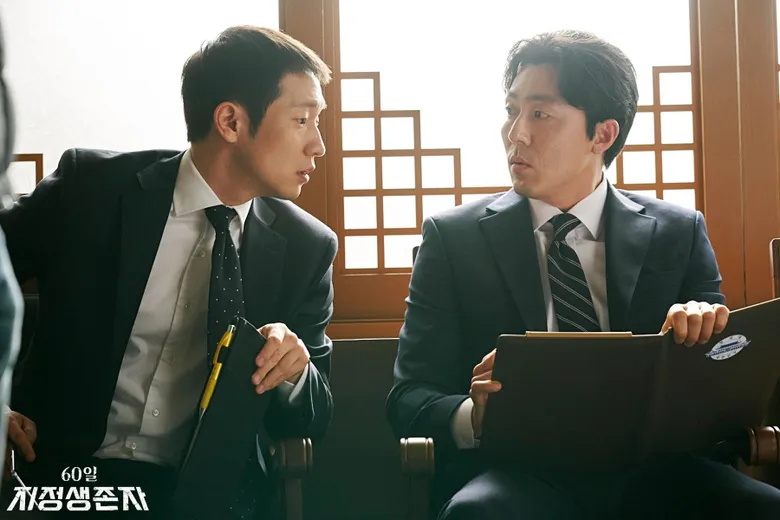 Promising storylines involving Mu-jin's family wither as the series progresses. His wife, Choi Kang-yeon (Kim Gyu-ri) is a human-rights lawyer, a job which is drama shorthand for brainy, compassionate and non-corrupt. They have two children, bright but troubled teen son Si-wan and cute little daughter Si-jin. (Note that the actor who plays Si-wan, Nam Woo-hyun, is a teen relatively new to acting, and not the former idol/music star of the same name. Ok Ye-rin, who plays Si-jin, also plays a cute little girl in Itaewon Class.) A scene with Mu-jin forgetting his wedding anniversary seems to exist mainly for flamboyant product placement, another K-drama trademark.
One small false note: apparently Mu-jin can take six months off from his university job without students badgering him about office hours, assignments, extensions or references, or colleagues demanding he attend meetings about undergraduate curriculum renewal or interdisciplinary research clusters. However uncertain his grasp of the job of president, he must have a very commanding out-of-office email message.
Soundtrack highlight: 'Him' by Park Jong Mi